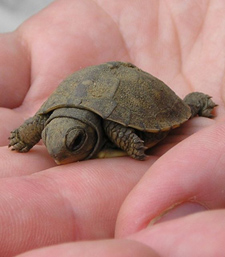 A baby Box Turtle
We are happy to present educational resources that use data from the Life Under Your Feet wireless sensor network. Our resources will give you and your students access to high-quality environmental data collected within the past few years. Students can learn about the Earth system using exactly the same data that professional scientists are now using.
We currently have one lesson plan available, along with a set of resources for learning about soil ecology and macroscopes. All our materials are available as PDFs and Word documents, and are free to download and modify. We encourage you to tailor the materials for your students and share with your colleagues. Let us know what you do, and we'd be glad to help - E-mail raddick@jhu.edu.
Lesson Plan:
Field Research on Box Turtles
In this lesson plan, students use data from a study of Eastern Box Turtles to see how local environments change. They learn about the local environments of the turtle nesting and overwintering sites, about what data can be collected to understand these sites, and how the data tells us something about the turtles' relationship to their environment.
Student version:
Teacher version:
Additional Recources
Click the "About Soil Ecology" link below to learn more about the science of soil ecology. Click on the video to learn more about macroscopes, which are also called "wireless sensor networks." For a more technical introduction to wireless sensor networks, see About Sensors.
Macroscope Video
Communication Tools
Life Under Your Feet has a teacher wiki where you can post about your experiences with using the web site and discuss with your colleagues and the site's creators.